Welcome to Drishti law
Drishti Law is devoted to assisting clients identify and protect their competitive advantage by establishing a capitalization strategy that adapts to their needs. Our expertise focuses on developing competent asset management strategies for innovators, creators, startups, and businesses. Additionally, navigating the current IP trends require a seamless experience that is personable and reflective of your goals. The principal attorney, Sahil Malhotra, founded Drishti Law because of his deep passion and ever-evolving interest in Intellectual property and Data Privacy.
We take a holistic approach in balancing the risk and rewards as it relates to the development, management, and capitalization of your assets. Our ability to implement complex litigation and prosecution services permits effective execution of trademark, trade secret, copyright, and data privacy for individuals and businesses. It begins with creating a client-centric environment that develops trust through efficient decision making and instituting creative solutions.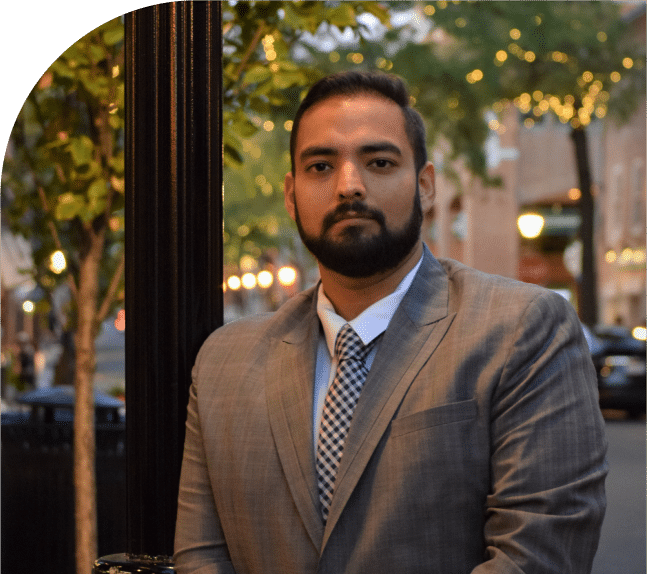 Sahil Malhotra
Education : J.D. University of Illinois – Chicago school of law
Bar Admission : Illinois (Admitted 2021), District of Columbia (Admitted 2022)
Sahil Malhotra is an Intellectual Property Attorney, who founded Drishti ("vision") law because of his vision in protecting dreams and ideas. It is a continuation of his passion and experience as a student attorney at the University of Illinois Chicago (UIC) School of Law Intellectual Property Clinic. He provided individuals and small businesses with an opportunity to enhance their IP's value by helping them register trademarks and successfully argue against office actions. In addition to his training and experience, he has been deeply involved in the multifaceted IP portfolio at UIC and continues to be associated with IP organizations and conferences. Additionally, Sahil's experience as a trademark law clerk at the United States Patent & Trademark Office (USPTO) confirmed his aspiration to pursue a career in practicing intellectual property law. Together, his experience at the IP clinic, USPTO, and continued involvement in the IP community have resulted in a full spectrum IP law firm. Sahil is licensed to practice in the state of Illinois and has the requisite acumen to provide effective solutions for managing your portfolio. He understands the challenges faced by innovators, creators, startups, and businesses in today's hyper competitive market. Your vision needs protection. Let Sahil help you develop a competent formula for success.