Many businesses with a registered trademark of the company name often find themselves in domain name disputes due to cybersquatting. As a brand owner, applying a trademark-specific dispute resolution policy is essential to recover the desired domain name from the domain holder. This blog will discuss the basics of domain name trademark infringement, its legal consequences, and prevention methods.
What is Domain Name Trademark Infringement & Why Does it Matter?
Domain name disputes more commonly involve situations of cybersquatting, where bad-faith individuals or entities register domain names containing trademarks of others with the intention of monetary gains. T
Trademark infringement is the unauthorized use of a mark in connection with goods or services in a manner that is likely to confuse the source of the goods or services offered.
Cybersquatting laws and dispute resolution policies are maintained to resolve matters where a trademark owner, preferably registered at the United States Patent and Trademark Office (USPTO), has identified a bad faith domain name registrant.
In trademarks, domain name disputes can be viewed from a trademark infringement perspective, as the domain name could be a source identifier for the trademark owners.
For example:
To be the best damn brewery in Chicago, first, you need to make some good beer. But ideally, you want to have the following:
A unique brand name like "Revolution Brewing," "Metropolitan Brewing," or "The Hopewell Brewing Co.." (This is not an exhaustive list; there are a ton of other great breweries in Chicago. For personal recs, feel free to ask in the comments.) An individual or company's trademark must evoke the product or service's character. Additionally, these brand owners must also have unique logos:
These breweries have done an excellent job protecting their trademark or service mark through trademark registration. But it is also essential for consumers to be able to locate their products online by securing a similar or same domain name. This is where domain name issues arise. Opportunistic domain name registrants tend to acquire the same or similar domain name. Or, the domain name is unavailable due to a business with the same name but in a different industry.
Ideally, trademark owners will have trademark attorney representation when seeking to protect their business name, logo, and domain names, especially when trademark owners seek, in good faith, domain names for legitimate business purposes and use them as source identifiers for their goods or services. A comprehensive search and clearance process can ensure holistic trademark protection, including the domain name a registered trademark owner desires.
While working with a trademark attorney, a monitoring and policing service will help uncover domain infringement or trademark infringement. Additionally, when confronting cybersquatters, a trademark lawyer will be able to assist you in protecting your trademark rights by reviewing a variety of enforcement options:
Sending a Cease and Desist Letter to the domain name owner,
Federal litigation under the Anti-Cybersquatting Consumer Protection Act (ACPA), or
Administrative proceedings through the UDRP or URS proceedings.
What are the Legal Consequences of Domain Name Trademark Infringement?
A Cease and Desist letter should begin with a preliminary investigation regarding the domain name registrant. Before any action on your behalf, a trademark lawyer must determine the domain name owner by looking it up on a domain registrar such as ICANN or any other WHOIS service provider. These services can usually yield the contact information of the domain name registrant. There are pros and cons of sending a cease and desist letter, which must be determined on a case-by-case basis in consultation with your trademark lawyer.
The Anti-Cybersquatting Consumer Protection Act (ACPA) is a part of the Lanham Act, which also covers US trademark law. It usually outlines how to approach bad-faith domain name registration. Registered trademark owners can bring a federal lawsuit against the defendant if they can prove three elements laid out in the ACPA—a reminder, federal lawsuits evoking the ACPA tend to favor famous and distinctive trademarks.
For marks that are usually weak or owners looking for an inexpensive resolution that doesn't involve a federal lawsuit, the UDRP or URS proceedings are ideal. The Internet Corporation for Assigned Names and Numbers (ICANN) governs the UDRP proceedings. These proceedings are overseen by an ICANN-accredited single or three-member arbitration panel and don't involve monetary damages.
The only resolution available to the plaintiff is the cancellation or transfer of the disputed domain name. World Intellectual Property Organization (WIPO) and FORUM are two ICAN-accredited arbitrators available to brand owners with valid or, preferably, registered trademarks.
Uniform Rapid Suspension (URS) is a lower-cost alternative to the UDRP proceedings. These proceedings only apply to new GTLDs (Generic top-level domains) like ".com," ".net," or ".org." Similar to the UDRP, the only remedy available is the suspension and transfer of the domain name to the trademark owner.
How to Prevent Domain Name Trademark Infringement?
The best prevention for owners to not infringe on another's trademark, and secure their trademark rights, is to conduct a thorough domain name search and clearance with the assistance of a trademark lawyer. Working with a trademark lawyer will also provide you access to brand protection software like a trademark monitoring tool.
A thorough search and clearance can lead to registering your chosen domain that is the same or similar to your registered trademark. Domain name registration should be done with the company's products or services in mind, as it should continue to represent a cohesive brand image. You can use one of many reputable domain name registrars, google domains/GoDaddy/hostinger, to secure your domain name.
Sometimes, your domain name can be your main registered trademark or source identifier, like booking.com.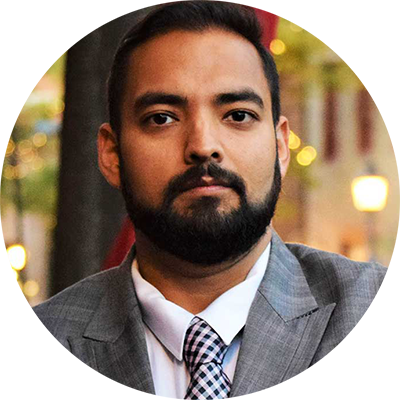 Sahil Malhotra
Sahil Malhotra is an Intellectual Property Attorney, who founded Drishti ("vision") law because of his vision in protecting dreams and ideas.
He provided individuals and small businesses with an opportunity to enhance their IP's value by helping them register trademarks and successfully argue against office actions. In addition to his training and experience, he has been deeply involved in the multifaceted IP portfolio at UIC and continues to be associated with IP organizations and conferences.
To know more about Sahil Malhotra — Click Here
You may follow Sahil Malhotra on Facebook: Sahil Malhotra and on Instagram: @Sahil Malhotra