Why does a clothing brand need federal trademark protection?
Brand loyalty and visibility in the fashion industry:
Nike didn't stop at just protecting the checkmark, and neither should you. Your brand will start with a name, logo, and maybe a few unique designs. But eventually, your business will expand to build brand loyalty and develop deeper roots in fashion. Suggestive marks like the checkmark or three-stripes are brand logos that are inherently unique.
Cr :Craig Adderley
Cr: Omar López
Brand name clothing does not develop an identity overnight. Therefore, building a clothing brand requires a trademark registration process that sets you apart from other businesses.
Legal protection from counterfeiters & copycats:
A US federal trademark registration gives enforcement rights to your clothing brand and designs. As a trademark owner, it gives you exclusive rights over your brand's presence in commercial trade. Additionally, another clothing brand will be deterred from diluting your unique brand.
The U.S. Customs & Border Protection (CBP) has the authority to seize and destroy products that infringe upon a registered trademark at the United States Patent & Trademark Office (USPTO).
Legal protection from predatory actions by established brands with existing trademarks in the fashion industry. An established clothing company with registered marks often takes advantage of the lack of trademark protections utilized by smaller clothing brand owners, fashion designers, boutiques, etc.
Every business owner spends a great amount of time developing a clothing brand identity that sticks within the community. A unique brand identity is even more essential for entrepreneurs and small business owners, especially ones in the clothing business.
For example, fashion designer "Thom Browne" overcame a trademark infringment lawsuit levied against him by Adiddas for his four design by showing that, over the years, his clothing has developed a commercial impression that separates his designs from Adidas. Here you can see a four-stripe design next to the breast pocket of the Thom Browne jacket. Do you think a consumer is likely to confuse this jacket to be produced by Adidas?
Cr: Thom Browne Official Site
Cr: Abdullah Gouiaa
Trademark rights can expand beyond a brand name or logo:
A common tool used to protect colors or patterns as part of the clothing brand identity is trade dress protection. Trade dress protection is a type of trademark protection provided under US trademark law. A brand owner in the clothing industry should think about how to protect the overall look and feel of their products and services.
Are there specific colors you would like the consumer to associate with your clothing brand? Are there patterns that are unique to your clothing line? Some in the fashion industry use product packaging and design to create a sales experience for the consumer which goes beyond the clothing product itself. It could be as simple as a color or design pattern that is part of the overall packaging, which can be protected as a registered trademark.
A clothing brand portfolio should protect multiple elements that surround the unique brand, and to do that; eventually, you will need to file for multiple trademarks. In today's age it includes digital assets like NFTs, and as a clothing brand owner you must explore every protectable element with an experienced trademark attorney.
Digital artist, Mason Rothschild is going into battle with luxury brand Hermes over the scope of artistic expression. Here, the artist is accused of violating US trademark law by using the Birkin bag in the artist's NFTs titled "Metabirkin." These NFTs (digital images) depict the Birkin handbag, an Hermes product.
Fashion Designers & boutiques need brand protection:
Fashion designers & boutiques should be at the forefront of utilizing trademark registration at the USPTO to build a unique clothing brand. Protecting your clothing brand name and logo is obvious and usually the first step.
Additionally, protecting clothing design the trademark application process makes a strong clothing brand. By utilizing the many tools provided through trademark law, including trade dress, you are able to protect your clothing trademarks and avoid bullying tactics that usually start with Cease & Desist letters.
How to Trademark a clothing line?
What USPTO trademark classes apply to clothing brands?
To know what class a clothing brand trademark falls under, you must know everything and anything that will be associated with the brand. This means your trademark portfolio will not only protect the apparel with all its elements, but it will also protect everything adjacent to a clothing trademark. Social media channels, domain name registration, and blogs are just a few examples of how brands should and already protect themselves through trademark applications.
The USPTO class to file a trademark application for a clothing brand name for "clothing" is 25. But, as I mentioned, your brand is bigger than clothing. Not everybody is able to spend $1000 in USPTO filing fees alone, and this is where a strong trademark strategy developed with the assistance of a US trademark attorney can be of assistance. Your brand's rise can be gradual, but it also must be methodical.
Does the US Patent & Trademark Office require any proof for a clothing brand trademark?
During the trademark application process you will need to provide proof of your clothing brand trademark in use. A specimen is an example of your trademark in use. For example, for a clothing brand logo used in connection with selling t-shirts, it can be:
A photo of the label carrying the logo subtly placed on the t-shirt,
Screenshot and link of a website where the logo is being used in connection with the sale of the shirt, or
A receipt, with the logo, showing a sale of a t-shirt.
You should always conduct comprehensive trademark search when developing a clothing line.
A brand-building process starts with ensuring your clothing brand trademark is unique and highly likely to be registered at the USPTO. Prior to filing a trademark application it is important to conduct a trademark search that is comprehensive. A proper comprehensive search will provide analysis on risk exposure to your clothing brand.
This can help avoid future trademark infringement issues from arising. Your clothing brand should be enforceable, and your established marks should be enforced for your brand to be considered a strong trademark. The advantages of a trademark search are provided in detail here.
What alternative intellectual property protection applies to clothing brands?
Clothing lines often seek other protections such as Copyright and Design patents.
Graphic or textile designs and logos are protectable under US copyright law. But clothing companies cannot protect colors as part of the design or the overall look and feel of the clothing products, which can be accomplished through trademark registrations.
Design patents are another way for fashion brands to develop a comprehensive IP portfolio by protecting clothing designs. Design patents help protect "any new, original and ornamental design for an article of manufacture." It is important to note that design patents only protect the appearance and not any functionality that might be part of the design.
Should I hire a trademark attorney for my clothing business?
Past studies, and even the USPTO website, state that hiring a trademark attorney to represent you for the trademark registration process increases the chances of registration. If you need further assistance in applying for federal trademark registrations to protect your clothing line, please feel free to book a free 15-minute consultation by clicking here.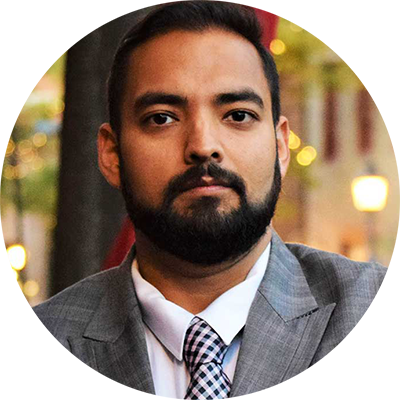 Sahil Malhotra
Sahil Malhotra is an Intellectual Property Attorney, who founded Drishti ("vision") law because of his vision in protecting dreams and ideas.
He provided individuals and small businesses with an opportunity to enhance their IP's value by helping them register trademarks and successfully argue against office actions. In addition to his training and experience, he has been deeply involved in the multifaceted IP portfolio at UIC and continues to be associated with IP organizations and conferences.
To know more about Sahil Malhotra — Click Here
You may follow Sahil Malhotra on Facebook: Sahil Malhotra and on Instagram: @Sahil Malhotra